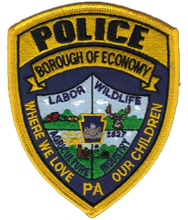 The Economy Borough Police Department will integrate the training, experience and knowledge of all the officers of the department to effectively investigate and prosecute crime committed within the Borough of Economy. Additionally, the Economy Borough Police Department will become active in the community with youth and adult organizations to promote crime prevention and community awareness; thus allowing the community an opportunity to provide feedback to the police department and discuss problems and concerns within the community.

Finally, the Economy Borough Police department will continue to strive with the highest standards to provide the community, businesses, families and their children with safety, security and quality of life.
ALERT IRS PHONE & EMAIL SCAM
The IRS along with the Economy Borough Police Department has issued strong warning for consumers to guard against aggressive phone and email scams targeting taxpayers. The scams won't likely end with the filing season so the IRS urges everyone to remain on alert. The IRS will always send taxpayers a written notification via the U.S. mail only for any due tax. The IRS never initiates contact with taxpayers by telephone or email. The IRS will never ask for information payment of any type over the telephone or by email. If you get a phone call or email from someone claiming to be from the IRS, here's what you should do: End the call without giving out any information or payment . If you owe or know you don't owe taxes call the IRS at 1.800.829.1040 to verify the inquiry. NEVER GIVE ANY INFORMATION WITHOUT VERIFICATION . You can report any incident to the Treasury Inspector General for the Tax Administration at 1.800.366.4484
Community Policing Activities
We're always eager to show our community and we've learned that our citizens enjoy our galleries. We make sure to update them regularly with our latest activities. Have a look around and let us know what you think.
SRO Woods recently participated in the Ambridge Area Middle School Field Fun Day by volunteering his services at the Dunk Tank!